With your Apple AirPods you can listen to music, use Siri, make calls and more.
Using your iPhone to set up your AirPods
If this is the first time that you are setting up your Apple AirPods you must make sure your device is updated. Once you have confirmed your device is up to date follow these steps:
Step 1: Go to your Home screen.
Step 2: With your AirPods inside the case, open the case and place it next to your iPhone.
Step 3: You will see a setup animation appear on your screen.
Step 4: Tap on Connect
Step 5: If you have AirPods Pro make sure to read the next three screens.
Step 6: If you have the second generation AirPods or AirPods Pro and you have already set up "Hey Siri" then you will be able to use that feature. If you have yet to set up "Hey Siri" you will be instructed on how to do so.
Step 7: Tap Done
Tip: If you are already signed into your iCloud, your AirPods are now set up automatically with any device that uses your Apple ID.
Using Your Apple AirPods
Your AirPods are on and ready for use as soon as you take them out of the case. Your AirPods will automatically play audio when you put them in your ears. If you take an AirPod out of your ear, the audio will pause, but if you put it back in your ear within 15 seconds the audio will resume. If you remove both AirPods the audio will stop.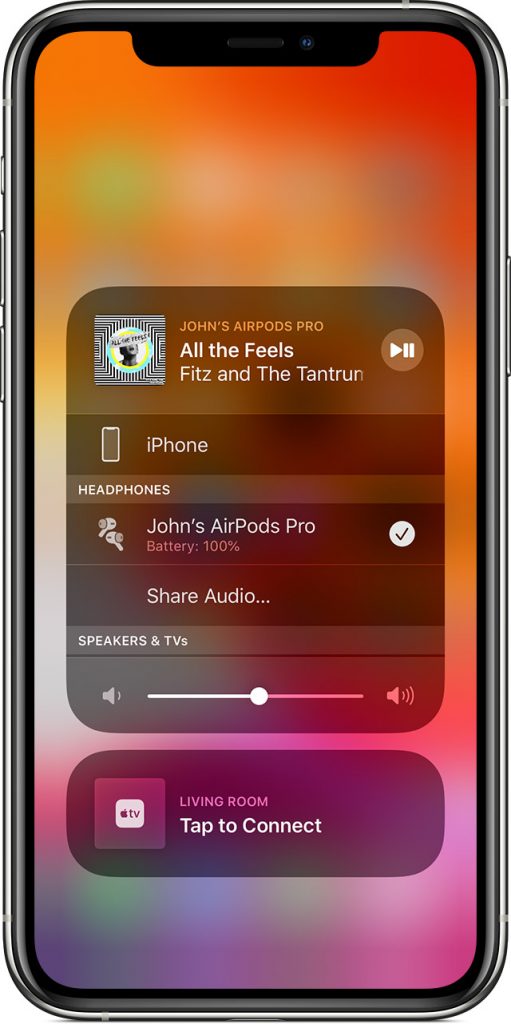 Note: Your AirPods are connected to both your Apple Watch and your iPhone at the same time and audio will automatically switch between them.
If you want to use your AirPods to play sound from another device or if you are trying to switch the sound to a different set of speakers or headphones, follow these steps:
Step 1: Open the Control center on your iOS device.
Step 2: Tap and then hold on the audio card located in the upper right hand corner of the Control Center.
Step 3: Tap the arrow  

 and then choose the device that you want to listen from.
Charging Your AirPods and AirPods case
When you are ready to charge your AirPods, simply put them in the case and just close the lid. Your AirPods will shut down and charge whenever you put them in the case
If you have a Qi-certified charger, you can charge your AirPods wirelessly with the charging case. You can also see the status of the AirPods charge by tapping the status light while they are in their charging case. The green status light means that your AirPods battery has charged more than 80%. If you do not have a Qi-certified charger you can also charge them by connecting them to an Apple Lighting USB cable.